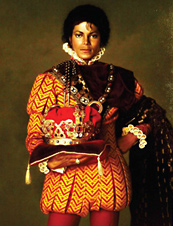 Not since Pam invited you to
check out
her Jacuzzi have you experienced a heady voyeuristic wonder like this.
Welcome to
The Collection of the King of Pop
, a just-unveiled show in Beverly Hills.
The exhibit—comprised of relics from Neverland Ranch—puts you inside Michael's head in a more immersive way than you ever imagined (or, perhaps, wanted). Be warned, however: you can look, but you can't buy—the gloved one's lawyers shut down a planned auction yesterday.
Still, it's worth a visit: in an enormous abandoned department store in the shadow of the Beverly Hilton, you'll now find an awe-inspiring take on general merchandise—think endless bejeweled military jackets. A chair made of cherubs. Butler mannequins. A giant arcade. And a thorough Peter Pan department. (Shocking, we know.)
And the soundtrack to all this—well, you might hear concert footage of "Man in the Mirror" blaring as you see yourself in a model castle made of mirrors, but before long, your head will be swimming in an endless loop of pinball pings,
Pinocchio
sound bites and Darth Vader's ominous exhalations. (Here, he's made of Legos.) Run, don't moonwalk: after the 25th, our second-favorite Jackson—after Tito, natch—will take it all back.
Wearing one white glove: optional.