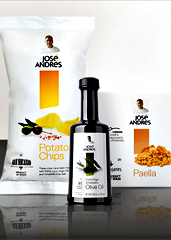 José Andrés has an online shop now. He'll send you food from it.
And... that's it.
Pretty sure you've already clicked on that link down there and started stocking up for your Independence Night cornucopia.
So we're good here.
Although if you're still with us, behold
José Andrés Foods
, your first shot at procuring all manner of seafood tapas, olive oils and... chips from the Spanish kitchen legend himself, online now.
Well, this is kind of great. Used to be you could only eat this guy's sea urchin caviar and steamed cockles at one of his 6,782 internationally lauded restaurants (give or take). And now it's all just sitting there online for the taking.
Your options are broken up into four categories: Dressings, Seafood Tapas, Snacks and Vegetable Tapas. Take your time in there. Get your hands dirty. Consider how much better your patio table would look with razor clams and Galician-style mussels all over it.
And should your pre-fireworks repast be a casual one, yes, you can even get a bag of chips. Fancy ones, though. With pink Himalayan salt and whatnot.
We assume the "whatnot" is olive oil or something.