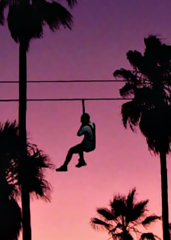 It's not that you're above hitting the Venice Boardwalk every once in a while.
(Solid people watching, to say the least.)
It's just that you'd rather be literally above the Venice Boardwalk.
Take heed of the airborne greatness happening at
Flightlinez Venice Beach
—yes, the city's first zipline now exists right over one of our most famous landmarks, and it's hoping to launch next week in time for the holiday weekend.
The appeal is pretty simple here. You spend a lot of your time on the ground. Sometimes it's fun to... not do that. To work your way through the crowds, climb five stories above sea level wearing a complicated harness that's alternately very flattering and very not flattering to certain parts of your body, and then just—jump.
There's a ride about 30 seconds long waiting for you. You'll hit around 30 mph, with pretty nice views of the beach on one side (sand, water, sunset) and the boardwalk (deltoids, scalp piercings, neon sunglasses) on the other.
Bring someone who likes long ziplines on the beach.