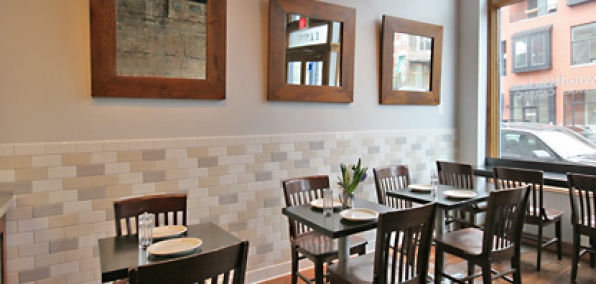 Consider the sandwich for a moment.

Sturdy, reliable, a real workhorse when it comes to lunch. But generally speaking, never the highlight of your day.

Until maybe now. Ladies and gentlemen, we present Birchwood Kitchen, now open in Bucktown.

Started by a trio of guys who honed their chops at Foodstuffs, Fox & Obel and Pastoral, Birchwood looks humble enough at first glance. But behind the old-fashioned general-store aesthetic (seating courtesy of an Oak Park church) lie some of the most deliciously fancy sandwiches you've ever had the privilege of stuffing in your mouth.

These aren't trimmed-crust, pinky-in-the air deals, either: the grilled cheese oozes with a gruyere that's been aged six months in a French Alps cave, the roast beef sandwich drips with brandy-soaked blue cheese, and, the piece de resistance, a lamb French dip, comes heavy with meat slow-braised in IPA beer from Piece (always nice to have a brewpub in the 'hood).

And when the weekend rolls around—and lunch gives way to brunch—a simple seven-item menu awaits. Look for lazy-day classics like bacon-and-egg frittata sandwiches, fried polenta and eggs, and a pretty mean quiche. Since it's BYOB, you'll save a few bucks on booze.

Which we're pretty sure you're okay with.