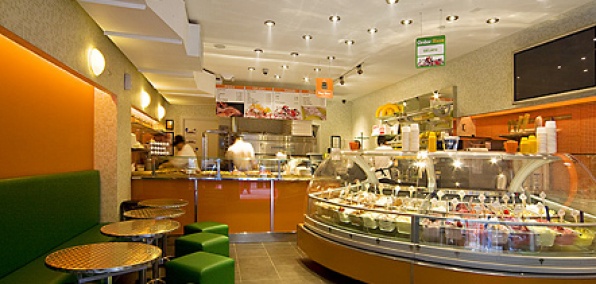 Pizza fatigue may be setting in.
After a long winter of
Neapolitan imports
,
30k pizza ovens
and
hidden pizza/lounge hybrids
, you're probably ready for a little sushi.
But wait just a second…
In the shadow of Grand Central Station in a small, modern little shop is a new pizza and gelato maker quietly pumping out classic thin crusts and some fresh ice cream for your Midtown snacking needs. Welcome to
Golosi
, open today and ready to cut you an inch.
Yes, we said an inch. Run by a young Sicilian pizza wunderkind named Francisco, you'll want to pop in to Golosi (glutton in Italian) when you're looking for a manageable treat—three inches should do—of a crispy (the flour is imported from Italy, and the dough is made with olive oil) skateboard-shaped pie. That means the next time you're not feeling like oysters at Grand Central, or if you need a fast bite before staring down a whiskey bender at Campbell Apartment, you'll have a sliver of prosciutto di Parma pizza coming your way.
Or maybe you'll be more into the curious hot dog-topped pie and 28 flavors of made-in-house gelato (the smart money is on the Nutella).
Just what you needed to take your mind off pizza.