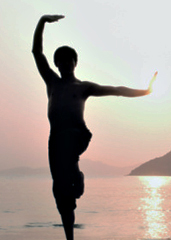 Things you can do on a paddleboard in the ocean:
Stand up. Paddle around. Gaze thoughtfully at horizon while clenching abs. Consider finally learning to surf.
Lie down. Close your eyes. Think Zen things. Consider finally learning to surf.
Or, oh, you know, do a roundhouse kick while trying not to wipe out spectacularly...
Bow respectfully for
Martial Arts Paddleboard Class
, the new way to take care of your ancient-Asian-aquatic-fitness needs, now happening in the waters of Marina del Rey.
If Bruce Lee crashed the set of
The
Endless Summer
, it might've gone something like this: just 90 minutes of you, the open water and a series of interdisciplinary martial arts moves that are, like, way harder because you're balancing on a moving paddleboard that's rocking in the ocean.
What you'll get: the board, the paddle, the life vest and an anchor. So you don't drift out to sea while holding the perfect crane pose. And if you don't consider yourself a paddleboard-martial-arts expert (and you're not just being modest), know that the idea is to appeal to first-timers and tai chi champions alike.
Either way, your inner-Macchio quotient just went up by 25%.