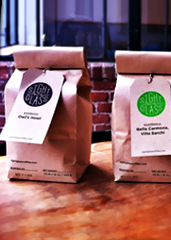 You know a lot about coffee.
For instance, you know that without it, there's a 4% chance of you accidentally eating hanger steak instead of cereal in the morning.
And that it's delicious when it's cold.
And that... here, just read this:
It's about
Sightglass
, your new purveyor of life-affirming roasted-to-order coffee and coffee-related wonderment by way of San Francisco, online now.
If you're imagining some java-obsessed beanmasters who read
The Joy of Coffee
every night before not falling asleep... you're probably pretty close. These guys love coffee. And they're pretty damn good at coffee. Which works out, because you're pretty damn good at drinking it.
Where these beans come from: everywhere. Latin America. Africa. Indonesia. Another way of putting that is... well, it's good. The kind of stuff that'll help you conquer 12 spreadsheets. And write a rock opera. At the same time. Before 10am.
And then you've got the gear. Aeropresses. Hand-cranked grinders. Something called a Hario V60 Glass Dripper. We assume it's for dripping things. Or for being a prop on
Breaking Bad
. Either way, that's there if you need it.
But let's be honest. All you need to know is which coffee tastes best over ice on a sweltering summer morning. That would be their
Blueboon
. It's pretty sweet and delicate and strong.
So yeah, tastes like cold coffee.