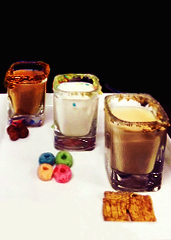 We're lovers. You know that. But every now and again, something comes across our desks that just seems... suspicious. Because of the tremendous material upside to all our lives if these claims pan out, we at times put ourselves in harm's way to investigate. Albeit skeptically.
We call it: Skeptical Investigation. (Trademark pending.)
THE CLAIM

That the Grid has made a significant advancement in science by converting Froot Loops, Cocoa Puffs and Cinnamon Toast Crunch into tasty and convenient alcohol form with their
Breakfast Cereal Flight
.
THE INVESTIGATION

Available only as part of a flight, each shot starts with RumChata, a creamy, rum-based liqueur. To achieve the Froot Loops essence, they add tropical-fruit-flavored vodka (yes, that exists). For Cocoa Puffs, they add a milk-chocolate liqueur. For Cinnamon Toast Crunch, they add cinnamon-flavored whiskey. Then, each glass is rimmed with bits of its respective cereal.
Our intrepid investigator sipped each shot. Then, he slurped each shot. Finally, he judged.
THE VERDICT

Cinnamon Toast Crunch shot: basically, it's like drinking cereal milk with an Atomic Fireball dropped in. Bust.
Cocoa Puffs shot: it tastes like post-cereal chocolate milk. But before you go too cuckoo, we should say: chocolate
skim
milk.
Froot Loops shot: and we have a winner. Froot Loops taste, liquory kick.
This bodes well for Toucan Sam.