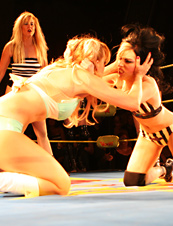 Life is all about balance.
So for every highbrow afternoon
pondering a striking Baldessari
... there's an evening of girl-on-girl pirate wrestling.
Step inside, won't you, to
The Girlie Girl Catfight Show
—a raucous all-new evening from the infamous Lucha VaVoom crew, whose surreal Mexican wrestling matches have been drawing crowds for years. It bows this Friday at the El Rey.
The esteemed proprietors of this eye-opening spectacle would like to make one thing clear—this is not about generously siliconed girls pretending to "wrestle" until they break a nail. But it's not about generously steroided muscle-beasts who don't play by the rules, either. The goal is to corral some hardcore but talented wrestlers—including some Lucha VaVoom favorites—get them in a ring, and watch them go at it like the spandexed gladiators that they are.
In case this sounds like all the other female-wrestling in the city, you should know this week's debut gets an extra over-the-top twist thanks to a comprehensive pirate theme (finally, a chance to pull out your pegleg for a wild Friday night).
Accordingly, you can expect some between-match comedy from the likes of… Parrot Top.
Though twenty bucks says it's just Carrot Top with an eye patch.