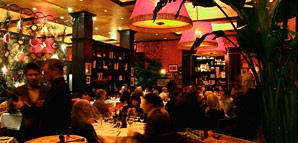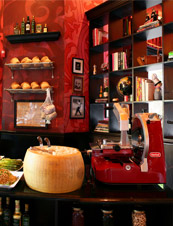 Every so often a man needs to make a fresh start.
And while the Tuscan countryside has always been a pretty good place for that sort of thing, the South Loop is starting to have a nice ring to it.
Introducing
Via Ventuno
, opening tonight with all the charm Italy—and Jerry Kleiner—can muster.
You remember this place as Room 21, Kleiner's velvet-and-leather speakeasy that in an even earlier life was Al Capone's secret beer warehouse.
Now the man who brought you Red Light and Carnivale has given this spot a slightly new look and a totally new menu, playing down mobster nostalgia and playing up the beautiful cuisine from which those mobsters came.
Which means when you swing by Via Ventuno (Italian for "21st Street") starting this evening, you'll find a restaurant stuffed with personal touches from Kleiner's own art collection (check out the 1951 Hugh Hefner-inked comic book near the front door).
You'll want to start at the bar with $3 apps like olives and anchovies, and a stiff cocktail like the
21 Club Salute
(Rittenhouse rye, sambuca, absinthe, scotch).
Once suitably braced, make your way back to the intimate dining room, where the American bistro menu has given way to imported cured meats sliced in front of you, hearty gnocchi pomodoro and honey-drizzled pork chops.
Yes, change is good…