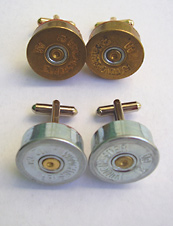 In the last few months, you've survived a bloodbath or two. That much is certain.
And as long as you can keep dodging bullets, you might as well turn them into attention-grabbing pieces of flair—like the one-of-a-kind
Shotgun Shell Cufflinks
by Ron Dotson, now available at Brick & Mortar.
Say you're about to close a cutthroat deal, and you're not afraid of a few subconscious intimidation tactics. In the glass case at the center of B&M, you'll find modified Winchester shells with surprising potential to polish off your power suit in a way that tells everyone around the conference table—with just a carefree wave of the hand—that you're polished, put-together… and probably not to be messed with.
Of course, they also work if you're a make-clothes-not-war pacifist that's just really into recycling.
Dotson's accessories have been in the shop for a while, but these cufflinks represent his first foray into actual artillery. And if you're gift-shopping for weapon-related jewelry for her (you're thoughtful like that), Dotson is historically not opposed to the occasional dagger necklace or handcuff earrings…
And you've never been opposed to handcuffs…