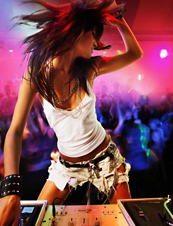 You heard it here first: multitasking is the new singletasking.
And it's damn sexy.
Exhibit A:
Awarehouse
, a new gallery/performance space/music venue/lounge opening this weekend in Wynwood, coming at you with everything but the kitchen sink.
Opened by the head of an Electronica record label, the sprawling warehouse is everything you'd want in a place that has everything—there's an indoor concert hall to catch the occasional gig, a recording studio to lay down the occasional concept album, a separate exhibition space to take in the occasional Art and Design Night exhibit…
And the whole thing will turn into a hip and roomy lounge on event nights, with a bar doling out mixed drinks/beer and an outdoor sculpture garden outfitted with cabanas and beds—the perfect place to lie down under the stars with a passionate gallerista and process the mind-blowing entirely-blue-canvass-with-no-title you've just experienced.
We'll warn you: it's all a little '80s music video/
Flight of the Conchords
mocking an '80s music video, but if it sounds like something you could get into, they're kicking things off Saturday night with a free concert featuring the Brazilian Girls and other live acts.
A free concert with Brazilian Girls is a free concert with Brazilian Girls.