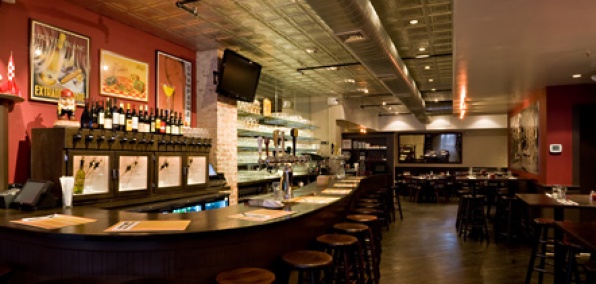 There's nothing wrong with
lighting absinthe on fire
,
screaming samurai chefs
or
tailors doubling as bartenders
.  
But sometimes you just want a simple little place that plays it by the book.  
Even if the book happens to be Belgian.  
Welcome to
BXL East
, the Midtown East offshoot of stalwart westside Belgian cafe BXL, now open for your strong beer enjoyment.
BXL is everything you'd want in a Belgian bar, carried out with the simple straightforward manner of your favorite neighborhood tavern. Which means you're coming here for beer, and lots of it. They've got 14 handsome brews on tap, including (color-coded) standbys like Leffe Blonde and Brune, Duvel Green and the infamous Witte.
If you're looking to take things to the next level, go stronger with the ominous-sounding Gulden Draak (clocking in at 10.5 percent), go sweeter with a dessert gem (like raspberry lambic Lindemans Framboise) or go to the list: a 35-strong collection of bottled imports (including a few Chimays).  
Oh, and if you feel like cheating on your Chimay with a little nourishment, they're making seven different types of mussels, from Moroccan and Thai-style mollusks, to one flavored with wheat beer (you just can't get enough).  
If you can't decide on a flavor, show up on Sunday or Monday for $20 all-you-can-eat mussel nights, which also happen to come with a Stella.  
Or is it the mussels that come with the Stella?