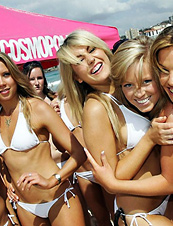 There are some things that just have a way of getting your attention.
Several hundred young, well-proportioned women in bikinis, frolicking on the beach on a hot sunny day, is definitely one of them.
Which brings us to this Saturday, and why you'll want to grab a couple of friends and get yourself down to Nikki Beach for what very well could be the most glorious staged event of Western civilization: the
Cosmo Bikini Bash
.
The skinny: in order to set a record for the biggest bikini photo shoot this continent has ever assembled, hundreds of 18-and-older ladies will converge on the sands of South Beach, covered in scant more than a skimpy two-piece and some suntan oil, to position their bodies to spell out C-O-S-M-O for an aerial photograph.
For the girls, there'll be freebies like gift bags, designer bikinis, airbrush tattoos, leg massages and a fun day in the sun. For you, there'll be…the girls. (Also: cold beer at the bar, an impromptu afterparty on the beach after the shoot wraps at 2pm, and an even later afterparty planned at Mansion Saturday night.)
And don't be surprised if you run into an entire college sorority or two—
Cosmo
is sweetening the pot for coeds with a $500 donation to the sorority that brings the most girls in swimwear.
This is why you live in Miami.