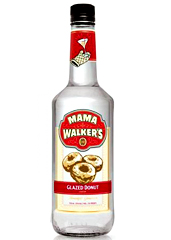 For decades, adult beverage companies have struggled with a question that taps into your innermost dreams, desires and... well, mostly those two things.
"How do we make this stuff taste like blueberry pancakes?"
Today, an answer:
It's called
Mama Walker's
, it's a new line of down-home breakfast-infused liqueurs, and it's available online now.
Herewith: everything you need to know about drinking your breakfast. (Responsibly, of course.)
The Holy Trinity of breakfast is here.

As you already know, they've booze-ified blueberry pancakes. But they've also done it to bacon. And glazed donuts. The result: three 70-proof elixirs that harness the soul-purifying flavors of pancakes. And bacon. And glazed donuts.
The distillation method is under heavy wraps.

But according to our informant, they create maple-bacon liqueur by steeping an entire Berkshire pig's worth of bacon in alcohol, injecting that solution into a maple tree and extracting the potent, maple-bacon-y sap. (Full disclosure: our informant also thoroughly enjoyed the product testing.)
They mix well with others.

We see you using these... well, often. Consider the cocktailing possibilities. Add some maple bacon to your Bloody Mary. Or stir some glazed donut into your coffee. Or just drizzle a bottle of blueberry-pancake liqueur over your blueberry pancakes.
And then politely tell Mrs. Butterworth to step up her game.