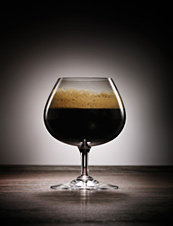 Mondays after daylight savings are notoriously rough, so thankfully there's Starbucks to help power you through the day.
Now let's see what we can do about tonight…
Introducing
Red Eye Coffee Porter
, a new limited-production beer from Chicago-based Two Brothers Brewing Co., melding your favorite late-night and early-morning beverages into one convenient pint glass. (And to think—they gave Al Gore the Nobel.)
You've probably developed a healthy respect for strong porters over the years, which are like stout's darker, more alluring cousin.
With this one, Two Brothers takes coffee beans still warm from the roaster and sprinkles them into the beer during fermentation, which only enhances the full-bodied (9.3 percent alcohol) flavors you know and love from the porter's roasted grains and bourbon-barrel aging.
Let's be clear: you're not going to mistake this for your morning latte—or the saccharine jolt of a Red Bull and vodka—but you'll definitely sense a little lift from the perky chocolate notes and invigorating coffee aroma.
And if you feel like tackling a few spreadsheets, emails or solving global warming after drinking one, go ahead.
We've never been one to stand in the way of progress.