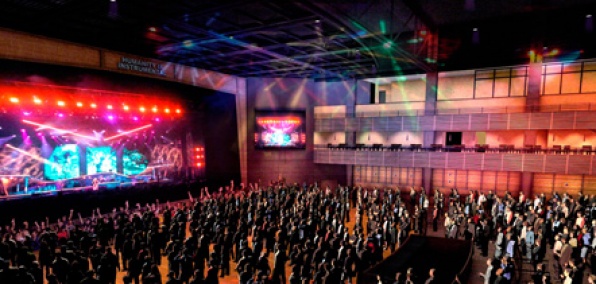 Bigger is always better in Vegas. Always.
 
This holds especially true when you mix in a little rock and roll.

So while you're sad to see the demise of the Hard Rock Hotel's much-beloved old dog of a rock hall, the Joint, you're more than happy to show up at the much larger, much louder, much more badass New Joint, starting strong with the Killers on April 17th, and now selling tickets for the first slate of all-star acts (more on that later...).

If you've been to the old Joint—and more importantly if you remember being at the old Joint—you'll notice that they're going for the same down and dirty rock feel, just on a more Coliseum-esque scale. The space holds 4,000 people and has all the bells and whistles you've come to expect in your live experiences (giant screens on the side of the stage, VIP luxury boxes, ear-shattering sound system), but it still feels like a good mix of old-school, Sunset Strip and Vegas Strip.
 
You'll want to check the schedule before you head out to the desert, but we can confirm that they've got Sir Paul McCartney, New Zealand hipster-funnymen Flight of the Conchords and, naturally, Bon Jovi, lined up in addition to those Killers.

Not all on the same bill, but hey, this is still huge...