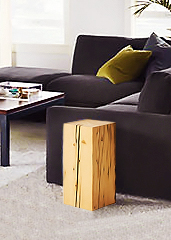 Reclaimed wood is so 2012. We know.
But reclaimed wood from a long-forsaken PBR brewery in Milwaukee... that's so 1844. And so much more interesting.
Let us explain, as we tell you about
Reclaimed Brewery Wood Stools
, some old beams from said factory living a second life as your new tables or stools, available now at Room & Board on 14th Street.
You're familiar with Pabst Blue Ribbon. You're familiar with wood. This will get you familiar with wood from the place where they used to make Pabst—namely, a big, Gothic-looking castle in Milwaukee, active as the brewery from 1844 to 1996.
Well, it's now abandoned. How abandoned, you ask. Abandoned enough that National Geographic filmed an episode of a show called
Abandoned
there.
Anyway, some furniture makers on the banks of Lake Winnebago got their hands on some of the white pine used in the framing and roof trusses, and started finishing it into these clever little blocks, either 18 or 22 inches tall.
You'd do with these just what you'd do with any other sturdy, nicely finished block of wood. Put lamps on them, put your feet on them. Get a bunch and make a giant letter H in your living room. Whatever.
Or put your beer on one.