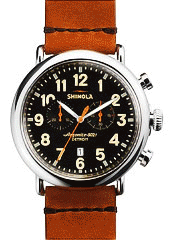 Success stories out of Detroit are few and far between these days.
But here comes one now. No, it's not the Lions. It's these guys...
Clear your shopping list for the
Shinola Holiday Shop
, a pop-up from the Detroit makers of watches, bikes and leather stuff, now open on 14th Street.
This is a pretty spartan spot (expect a permanent store across the street early next year) decked out with a vintage American flag and black-and-white photographs. But that's not why you're here. You're here to check out some of the coolest stuff made in Detroit since Eastwood's car in
Gran Torino
. Stuff like...
Really gorgeous bikes.
Classic-looking ones, constructed from American steel with touches like leather grips, disc brakes and sealed hubs.
Made-in-Detroit watches.
Like the Brakeman, modeled after early 1900s watch styles. Or a solid titanium chronograph. It's the Zurich of the upper Midwest.
The nicest sporting goods you've seen.
Like individually made baseball gloves, varsity jackets with cowhide sleeves and hand-stitched footballs just begging to be tossed around on Thanksgiving.
Leather.
All kinds of it, really. Backpacks, iPhone cases, American-made card wallets, even toothpick holders, all of it monogrammable.
Monogrammed toothpick holder = stocking-stuffer gold.