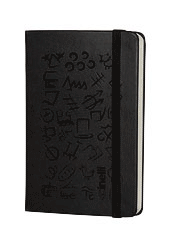 Paper. You can read it. You can wrap presents with it. You can stuff boxes with it to ship those presents. Fun.
Of course, you can also write on it. Which can be useful.
Here with plenty of it:
Moleskine
, the first brick-and-mortar store in DC by the Italian maker of awesome notebooks, journals, bags and cases, now open in Georgetown.
We'll assume you're familiar with these guys' black notebooks. So back to those in a minute. Because there's other worthwhile stuff here, too. Like:
—Messenger bags and backpacks, in black leather or army-green nylon, meant to hold exact sizes of tablets and laptops.
—Durable card wallets, passport cases and dopp kits. Great Secret Santa potential here.
—Nice-looking roller pens and click pencils, designed to clip to the side of their classic notebooks.
Anyway, the notebooks. They've got a ton of 'em here. All shapes and sizes. The same kind used by Picasso and Hemingway. The kind that'll make you want to become an investigative reporter. The kind that'll give you the urge to retreat to the quiet car of a train and start releasing your innermost thoughts.
And by "innermost thoughts," we mean "grocery list."