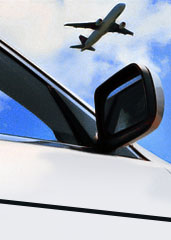 Remember that time you dropped off your car at the airport and the parking guy handed your keys to a total stranger so they could drive it while you're gone?
No, you don't. Because it hasn't happened yet. Because you haven't signed up with these guys yet.
These guys are
FlightCar
, a service that lets you rent out your vehicle to (perfectly trustworthy) strangers while you're traveling, available now at Dulles.
We know you've got big plans for Thanksgiving. Maybe a family reunion in Texas. Maybe some other kind of reunion in not-Texas. Wherever you're headed, you could make a little money with these guys.
After you sign up, you'll leave your ride at the FlightCar lot. They'll give you a lift to the terminal. They won't charge you for parking. And they'll wash your car before you come back.
Meantime, people coming into town will be perusing the cars at Dulles. They may be intrigued by yours. If so, they'll undergo a full driving-record check. You'll get a few bucks a day based on how much they drive—and your car will be insured up to $1 million.
Really, what could go wrong...