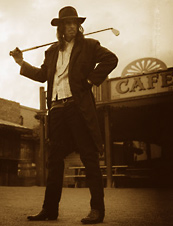 It goes without saying that you've been careful with your money lately. Focused only on the essentials.
Like a friendly game of golf with Alice Cooper. 
Which is just one of the things you might score at the annual
Stuart House Benefit
on Melrose this Sunday.
You've still got a few days to grow out your beard, which is of the utmost importance for any Sunday-afternoon blowout toplined by a ZZ Top concert... 
Once inside—or outside, really, since the party shuts down the street—you'll be surrounded by friends who prefer to support a worthy charity via impressive consumption of tequila, Malibu wine and the warm treasures slung from a mobile beacon known as the In-N-Out truck. And by friends we mean Slash, Cindy Crawford and host Kevin Bacon (guess you're now one degree closer).
But your chance to see Alice Cooper in some pastel plaid is not the only wonder up for bid at the auction. You could also score yourself some front-row Lakers tickets, Dodger dugout seats or one of two signed Gibson guitars…one bearing the John Hancock of Robert Plant, the other marked up by the Jonas Brothers.
Tough call which one you'll bid on.