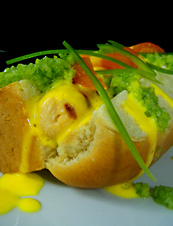 Even in a city with a virtually limitless array of dining options, some dishes are way too good to miss—they demand immediate consumption. Our feature
Served Up
gives you the lowdown on a standout dish in the city. Dig in.
You love late nights at the Wieners Circle, but midday calls for something slightly more elegant.
Try Lockwood in the Palmer House (you've never been afraid to overshoot).
This Friday at Lockwood, chef Phillip Foss will debut his version of a Chicago hot dog. (He's actually doing it
in response to a dare
—it's how most great achievements in life begin.)
Only, there's one big change to this wiener. Instead of…whatever it is that fills most hot dogs, Foss will use a lobster and scallop mousse molded into the shape of a dog. Then, he'll grill it and drag it through—okay, maybe tiptoe it through—a very elegant garden of pear tomatoes, leeks and green bell pepper curls.
Finally, the dog will be placed inside a fresh potato bun, topped with a ginger-saffron sauce in lieu of mustard, and served with truffled chips, fries or market greens.
It's not exactly straight out of the Chicago Hot Dog Manual of Style, but we're sure you'll forgive him.
It's not like he's using ketchup.