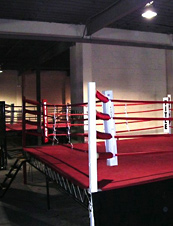 Not sure what it is, but every time you check your stock portfolio these days, you feel like punching something…
Which is why you'll want to step into
Fight Club Miami
, a no-frills boxing gym where you can turn your rage against Wall Street (or traffic, or your boss) into cathartic beatdowns…and harden your abs in the process.
Located in a warehouse building in gritty Wynwood, Fight Club is a roundhouse punch to the dainty accessibility of most area gyms. Strut through the doors armed with only your Everlast bag and a dream, and you'll set your eyes on a workout emporium filled with dozens of professional-grade speed bags and heavy bags, a classic boxing ring for supervised sparring, plus plenty of free weights, cardio machines and space for every kind of boxing/kickboxing/Muay Thai class you can think of.
It's the kind of place Maggie Fitzgerald honed her craft for a shot at the title, before that damn stool got in the way and things went south in a hurry.
And lest you think it's all one big bro fest, you'll be interested to hear that women account for nearly half the gym's members.
So choose your sparring partner wisely.