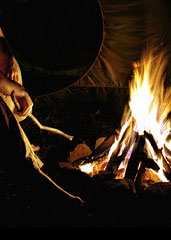 Moonrise Kingdom
.
Great movie. All that camping and nostalgic quirkiness and symmetrical cinematography.
You kind of wanted to crawl inside the movie and live there.
Okay, sure, we can make that happen...
Sign your own permission slip for
Camp Grounded
, a curious new excursion that's basically summer camp for adults, taking reservations now for a four-day session in June.
So, right now: it's not summer. You're not at camp. And you're not 12 years old. But book this trip immediately—there are only 200 slots—and then... wait. Come June 14, you'll show up at an old '70s Boy Scout camp up north. And what you're in for is pretty classic:
Roasting marshmallows. Arts and crafts. Stargazing. Lying around in a hammock. Playing Truth or Dare
.
Swimming in a river. Sing-alongs. Talent shows. Passing a note to someone, politely requesting that if there's any romantic interest, that person should circle "yes" or "no." All of it.
Okay, maybe not that last one. But the vibe here is complete devotion to recreating a youthful summer camp atmosphere. So yes, this means they will feed you in a cafeteria.
And yes, this means that—much like when you were 12—the counselors will not be plying you with alcohol. In fact, they'll confiscate any booze they find.
Yeah, good luck with that.