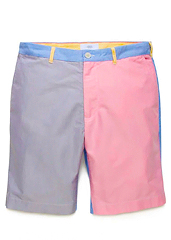 It doesn't really feel like spring today.
It's cloudy. Bit brisk. There aren't even any bluebirds flying around handing you mint juleps.
But someday soon, it's going to happen.
And someday soon, you'll need to look the part...
Consequently, here comes
Jack Spade
, a few bright-and-airy new rooms packed tight with all the seersucker and herringbone ingenuity you'll need for the season in waiting, opening Friday on the Westside.
You know Jack Spade. You've spent plenty of time online filling up fake shopping carts with the stuff. But it's real now. It's here. It's got one of those big rolling ladders and everything.
Just head over to the Westside and look for the big wooden doors (there's an address, too, so that should help). Open them. Then, step inside and make a happy face.
Because that comely young lady behind the curvy black counter over there... she's about to show you to some natty canvas messenger bags. Maybe some blue-and-pink oxford shorts. And then she's going to show you to the full-length mirror so you can see what you'll look like at the Masters this year.
Yep. They'll be keeping the place packed with springtime essentials of the white-chino-and-seersucker-blazer variety for the next few months. Which just makes good sense, really.
Because, well... spring.