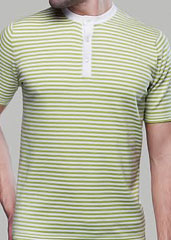 You're in a room surrounded by nice things.
There's a glass of single malt scotch in your hand.
A highly skilled tailor is taking measurements of your waist and shoulders.
And when you leave, you'll leave with the satisfaction of knowing that you're about to be the proud owner of a perfect-fitting, completely bespoke... T-shirt.
Yeah. This is happening.
Prepare for leisure with
HKT Custom Polos and Tees
, a new service courtesy of the well-pedigreed Hong Kong Tailor wherein they make custom casual shirts and dreams come true, booking appointments now on Buford Highway.
Sure, there are a few places around town that'll get you fitted for button-downs and whatnot. But polos, henleys and T-shirts: not as many.
You'll enter the simple shop filled with stacks of swatches and announce your intentions. You'll receive nods of approval and start looking through fabrics. You'll choose something like pima cotton or cashmere before picking one of 20 colors. Mix them up with some stripes or something. It's your world now.
They'll measure you seven different ways, and in four weeks, you'll have something like a cashmere pocket-tee that you can wear on a sailboat. Or while running fancy errands.
It's the shirt that makes them fancy.