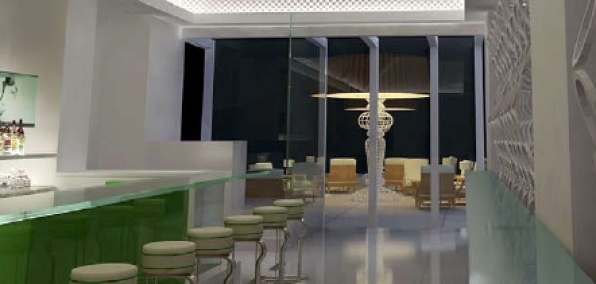 You heard it here first: rum is the new vodka.
 
So when a bar comes along that's designed to look and feel like a giant mojito overlooking a beach—in the middle of the desert, no less—then you're probably game for a little sugarcane-aided taste test.
 
Welcome to Rhumbar, the Mirage's new Cuban-themed lounge, patio and rum mecca soft-opening Monday.
 
While you may not feel exactly like you're riding a piece of mint into a Collins glass when you walk into Rhumbar, you'll definitely get a strong whiff of Miami Vice—minus the pastels and linen suits (unless you're going for the Crockett look these days).

The first things you'll probably notice are a group of metallic cocks (we're talking birds here, people) perched in glass cubes over the main bar. Take a minute, pause, reflect, order up a Monkey's Tail or a 1944 Mai Tai (much better than a 1943 pint of beer) and just move on to greener pastures.

And by greener pastures we mean the leafy, breezy outdoor patio calling your name. On your way outside, make a quick pit stop at the walk-in humidor, procure your favorite full-bodied stogie and head outside, where you'll have a direct view of the Mirage Volcano and the perfect setup for a lazy tropical evening.

Before returning to your regularly scheduled shenanigans.