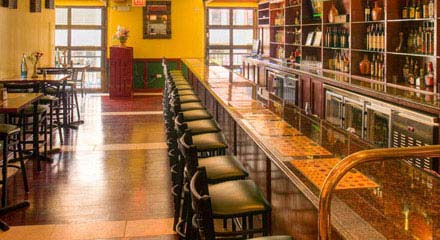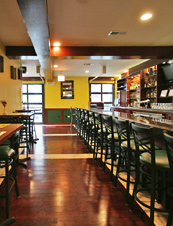 This city's fine tapas restaurants have served you well over the years. But sometimes you crave an experience slightly off the beaten path from the rest. Or directly above the rest.
Introducing
Pintxos
, Cafe Iberico's new second-floor secret, a restaurant-within-a-restaurant quietly debuting with weekend-only service tonight.
You're already super familiar with the Iberico brand—these are the same Spaniards who fed you your first bacon-wrapped date—so we're pretty confident you'll like the new offshoot.
When you walk in, you'll head for the staircase just inside the entrance, leading you up to this sunny setting, which seems a million miles from the downstairs cacophony. If it's just you and a date, grab a corner of the long bar, the perfect spot to kick back with
txatos
($3 gulps of wine—basically northern Spain's answer to tequila shots) and share
Tortilla Espanola
(chorizo, jamón and spinach).
And when the weather warms up, you and your friends will take over the tables near the retractable front windows and feast on the sort of Basque tapas for which this spot was named—sizzling $2 skewers of everything from grilled quail, duck and eel to cuttlefish, lamb…and about two dozen other options.
Because everything tastes better on a stick.