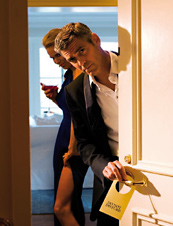 Script meetings over martinis, Oscar after-after-parties, John Edwards' indiscretions—hotels in this city have a certain chaotic mystique you just don't find anywhere else.
Except perhaps within the pages of
Room 23
, a new book of photography that aims to capture a year in the life of one Beverly Hills penthouse.
Your hostess is a socialite by the name of Diana Jenkins, whose visitors over the pages shot by Deborah Anderson include friends like Cindy Crawford and Heidi Klum. (It's probably no surprise that Clooney's not far from all this.) The subjects were given the freedom to do what they wanted when they showed up, giving the photos an enhanced sense of voyeurism—Klum's naked legs jutting wildly from a bellcart seem about like what you might've seen last time you were hanging out in her room. (We won't tell Seal.)
And since they were all shot in the same penthouse at the Peninsula, the cumulative effect is of one wild year in one wild place—and only in LA could the fact that it's all totally staged make it feel somehow all the more authentic.
Kind of reminds you of your place, actually.