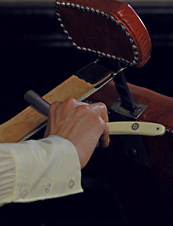 Deep inside Beverly Hills' newest labyrinthine hotel, a lone red-and-white barber pole spins.
If you track it down, you'll find
Gornik & Drucker's at Montage Beverly Hills
, a magical place where you can catch two and a half hours of sleep…even if you don't doze off.
To explain: the new barbershop is helmed by one William Gornik, known for his still-running, decades-old barbershop on Wilshire that's famous for snipping movie stars, politicians and movie star-politicians. (They say Reagan came in for a cut every two weeks—even when he was in the White House.)
After Gornik gets you comfortable, he'll get to work on your
Scientific Rest Facial
, a 45-minute treatment involving steamed towels, extractions, a face massage and an Egyptian clay mask. (Rudy's is always out of the Egyptian.) When it's all said and done, he swears you'll feel just as rested as if you'd slept two and a half hours…but, you know, your face will look better.
And since this is a barbershop and you're in the hands of a pro, you'll probably want to finish things off with the
Presidential Shave
.
It's a pretty comprehensive
stimulus package.