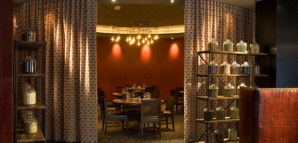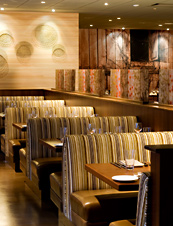 While Wagyu would certainly impress your business-lunch guests in years past, this year's plate calls for something just a bit more restrained and a lot more American.
Welcome to
Markethouse
, now serving the sort of roll-up-your-sleeves comfort fare to assist with all your midday negotiations. (And if that doesn't work, there's always the bar.)
While it's actually part of the Doubletree Hotel, you'll appreciate that the restaurant's carving its own identity by placing the entrance on a discreet midblock section of Fairbanks Court. When you step inside and fully absorb the combination of low ceilings, burgundy leather walls and Edison light bulbs, you'll feel a bit like you're entering the private study of some Wisconsin weekend getaway home (only here, the heat isn't a crapshoot).
The menu reads like a Midwest all-star lineup, with smoked ham gleaned from pigs raised in Kentucky, and fresh chicken shipped in from Indiana (the state always was known for its Bird…). One of the lone imports is an Angus burger topped with Vermont cheddar—but if that's not homespun enough, you can always opt for the meatloaf, washed down with a couple of simple small-batch craft brews.
Meatloaf is, after all, the answer to everything.