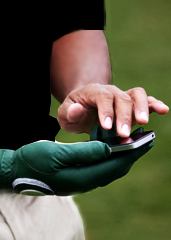 Golfing rule #724: never turn down quality assistance.
Especially when it's pointers on your swing from Phil Mickelson.
Or refreshment advice from Arnold Palmer.
Or tee-time scheduling help from... the Internet.
Raise the pin for
Golf Pipeline
, a smart new website that puts everything you need to manage your upcoming golf season in one digital place, online now.
Finding a course. Reserving your tee time. Rounding up the crew. These things take time. And patience. And interns. Well, they used to—until this came along.
Say you're looking for some midweek deal-closing on the back nine. You'll come here, search for every course within a 50-mile radius and choose your battlefield. Then, book that 10:30 tee time right on the site. And then... go to LinkedIn. No, really.
See, you can invite players straight from your LinkedIn network. Or if you're interested in something more friendly, you can also sync with your Facebook and email contacts. (Sadly, no Friendster compatibility... yet.)
Oh, and keep a lookout for the mobile app. Once it's released, you can do all of this and keep track of scores on your phone.
This tyranny of tiny pencils has endured too long.