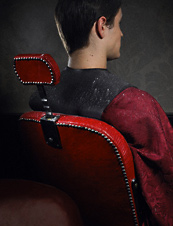 Some people enjoy the camaraderie of a barbershop. Others prefer to be coiffed in absolute solitude.
And then there's you: a social chap, but one who wouldn't mind skipping the obligatory chitchat…especially when there are razors involved.
Which is why we've got high hopes for
Sir Luxury Barber Spa
, a dapper new Aventura spot that nimbly balances your grooming needs while shielding you from the public eye.
Think of Sir as your old-school grooming parlor, minus the old-school—the perfect place to spend the day working out your kinks in privacy, or pop into for a quick trim and shave during your lunch hour. You'll start with a glass of wine in the crisply furnished anteroom, waiting your turn for anything from a hot shave or hot haircut to a hot stone massage (anything except a hot ham and cheese). You're then led inside the inner sanctum by a comely spa assistant, who directs you to your tricked-out pod. All the haircut stations feature flat-screens and wall dividers, so you're free to blissfully zone out while your stylist goes to work.
And if you appreciate a good scalp massage as much as we do, you're in luck: from now until Feb 28, Sir is giving you a free
ten-minute dome rub
with any shave or cut.
You're thinking "clean-shaven" is the way to go these next two weeks…