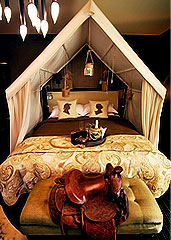 The trouble with camping is, you're outside.
You've got to worry about scientifically unclassified bugs and weather fiascos and creepy campground neighbors in a VW van filled with bongo drums and puka shells.
Time to take your camping inside like a civilized human being.
Introducing the
Urban Camping Package
, your chance to hole up in a tent with some s'mores—but in a nice hotel room instead of dealing with all that fresh air and stuff—available now at the Los Angeles Athletic Club.
So what happens is, you book this thing with somebody who's really great but sort of high-maintenance. Somebody who wants to be excited about going camping, because you're excited about going camping... but who is most definitely not excited about going camping. But then, surprise: you're "camping" in a totally decked-out Downtown suite.
There's a tepee over the bed. There's champagne, and a fondue set for making s'mores. There's
Friday the 13th
on the TV. There's... a TV. Oh, and a bunch of saddles lying around, just because. Makes it more rustic or something.
And since you're at the Los Angeles Athletic Club, you've both got full run of the legendary pool, gym, squash courts and bench press stations.
Camping is no excuse for not getting your reps in.