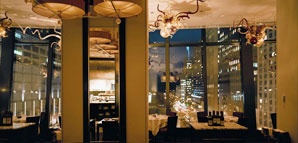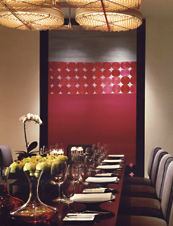 Valentine's Day has a way of bringing couples out of the woodwork, so by now all the eager young Romeos have booked up every last two-top in town.
Except for one…
Let us show you to your Table for Two at NoMI, providing the over-the-top V-Day experience you may have been holding out for.
NoMI is, of course, a Valentine's Day favorite—though those soaring dining-room windows on a majestic perch above Michigan Avenue can leave you feeling slightly exposed during your more romantic encounters. So if you're more than willing to shell out for a little privacy, you and your Valentine will be ushered into your own candlelit, petal-strewn private dining room, complete with a view of the Water Tower and plush environs. Don't worry: the sixteen-person table—where it's always so difficult to play footsie—will be replaced by a more intimate two-top.
Your evening starts—how else?—with the uncorking of bubbly. Share a toast and settle back as the chef honors your love with a show-stopping twelve courses—everything from lobster to foie gras to NY Strip. The evening closes with a pair of desserts, a little more wine and…
Perhaps relocation to an even more private room.