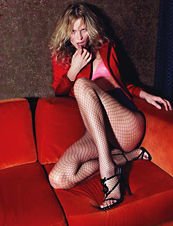 Of all the daunting tasks associated with Valentine's Day, none seems more distressing than finding the perfect gift. Especially when it comes to sexy unmentionables.
A wrong turn at the mesh-and-feather corset aisle and you could be spending Saturday night admiring your date in a Snuggie.
Luckily, La Perla's lingerie concierge is here to make sure she wears as little as possible—tastefully, of course.
With a minimum of planning, it all goes down with Bond-like smoothness. Schedule an impromptu trip for you and your Valentine to peruse the shops at the Village of Merrick Park. While you're there, you'll happen to pass by La Perla, where you'll "discover" the boutique is serving free champagne and strawberries all week. As you nudge your sweetie into the store to enjoy some bubbly, encourage her to browse the shop's array of high-end underthings, with you lending a decisive yay or nay as needed (feel free to do it in montage form). A lingerie concierge will be close at hand to discreetly track the things your lady has her eye on.
Later in the week, you'll swing by the store to pick up the goods your girl already picked out for herself.
And maybe a few impulse buys.