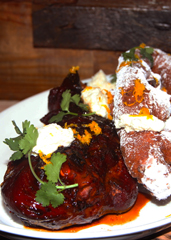 A roaring fire. A little brandy. One disturbingly large turkey leg.
Okay, so your Valentine's night got a little weird. And by weird, we mean awesome.
So awesome, in fact, that someone has decided to turn it into something edible.
Behold: the
Smoked Turkey Leg
, an improbably liquor-y ode to both romantic nights in front of roaring fires
and
sweaty days at street fairs, available through this weekend at the Peasantry.
Yes, these are the bowling-pin-sized monstrosities that you could use as cudgels. Their natural habitat has traditionally been confined to Taste of Chicago and King Henry VIII–helmed banquets. But right about now, when the nearest street fair seems years away, the timing of this is a pleasant surprise. And if not, the sight of sweet-potato funnel cake is.
What really sets this beast apart is smoking it for four hours over hickory and cherrywood. The smoke smells like embers from a roaring fire, and the legs are big enough that you can split one with someone you wouldn't mind getting cozy with.
There's also a kick. A few healthy glugs of Yahara Bay apple brandy (made with Wisconsin honeycrisps) in the soy glaze give these turkey legs some serious tipsy-making potential.
Legs always do that to you.