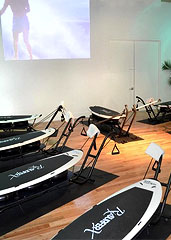 New Year's resolutions.
Remember those...
Yeah, it's okay, you don't have to answer.
Anyway, here's an excuse to try that whole gym thing again.
Oh, and this time, maybe bring a wetsuit.
Paddle out for
SurfSET
, an intense indoor workout that simulates surfing atop a landlocked longboard, available now at Crunch in South Beach.
Here's the thing about surfing. It looks cool. Also, it's kind of a great workout. Also also, it typically requires water. Typically.
See, some enterprising Californians figured out a way to bypass that whole ocean thing. Their solution: putting a custom-made board on top of some stability balls so that it feels like you're actually riding a wave.
Okay, great, so now you can surf in a gym. Specifically, the Crunch in SoBe. Just show up for one of their twice-a-week classes (grab a guest pass if you're not a member) and claim a board.
For the next 45 minutes, an instructor is going to show you some basic surfing moves (paddling, duck diving, shark kicks) and run you through a mini boot camp (yup, there'll be sandbags). Then, when it's time to wrap up, the lights will dim, ocean sounds will begin playing, and you'll end with a bit of modified yoga.
Or, you know, a modified nap.