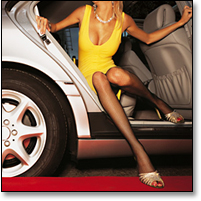 Your day is done. Your date is waiting.
And suddenly you can't get to the restaurant because of Adam Sandler. Again.
From now on, avoid falling victim to Hollywood's endless—and endlessly random—street closures with your new favorite website,
Navigate Hollywood
.
Just in time for Oscar season, you can find a useful, definitive list of the whens and wheres—for instance, Hollywood Boulevard will start shrinking this Sunday in preparation for the big ceremony, and there's an ominous-sounding "Publicity Stunt" for
Friday the 13th
taking place near Orange next Friday...the 13th. And that's in addition to the usual premieres, gadget launches and Walk of Fame events that are fine when you're going, but excruciating when you're not.
If you can't be bothered to visit the site regularly (with repeated viewings of the Christian Bale dance remix on YouTube, there just isn't time), simply sign up to get the important alerts as text messages or emails, and you'll be directly notified next time you need to careen onto Franklin to avoid a giant crane swinging around
Madame Tussauds
. There are also some wild claims about a so-called "metro system," and even info about construction projects that don't involve celebrities.
Or, as you like to call them, indies.