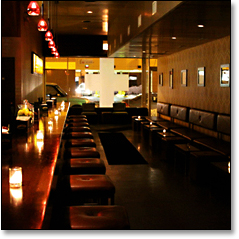 While this city's foodies are keeping vigilant watch for the latest celebrity chef-helmed restaurant to launch, we thought you'd appreciate a little less vigilance and a lot more food.
Introducing
Dine with Dale
, the new Thursday night supper club at West Town's Relax Lounge.
Think of Dine with Dale as a decadent tiding-you-over offering from Dale Levitski, the
Top Chef
alumnus whose hotly anticipated Loop restaurant, Town & Country, remains tantalizingly vague on its opening date.
Show up this Thursday night around 7pm, and you'll find candlelit tables replacing Relax's normal cushioned seating cubes, and burgers and fries taking the night off in favor of a three-course menu that changes every week and includes things like citrus salad, chicken with sausage guazetto (slow-cooked sausage), even a stewed winter fruit topped with vanilla goat cheese ice cream.
If that sounds pretty wild, consider where it's coming from—a shoebox of a kitchen with just a single grill and deep fryer. It's a challenge worthy of Tom Colicchio himself.
Don't worry if you don't know who that is.