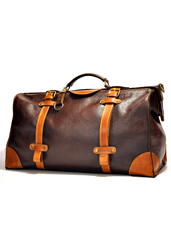 Quick, pack a bag.
You're going someplace tropical.
Someplace where impossibly tan people wearing loincloths scale palm trees like lynxes and cut down coconuts specifically harvested for rum cockta...
Wait.
You're not packing
that
bag, are you...
Looks like now is as good a time as any to introduce you to
First & Company
, a new satchelry doling out all manner of unreasonably handsome Whiskey Batido leather bags for your vacationing consideration, online now.
We hate to do this, but we may have to use the word "gorgeous" here in a second. Yep, we do. Because this stuff is gorgeous. It just really is. It's the kind of luggage that makes other luggage look like... less-nice luggage.
For instance, that big Weekend Discovery Duffel in there. Look at that thing. All dark and broken-in-looking. Nubuck leather. Antique brass everything. Burgundy suede lining. We could definitely see you walking around with that in one hand and a squash racquet in the other (no reason, just because).
Let's see, there's also a messenger bag. A handmade camera case. Chest pocket wallet. Passport cover... all equally devastating.
For something you put socks in, that is.