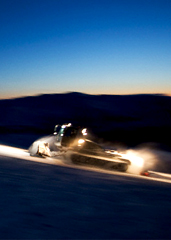 You hadn't forgotten about that day coming up. The one with Cupid and the hearts and the...
No. Definitely not.
It's just that you were waiting for something truly majestic to come along. Something involving champagne and snowmobiles...
Presenting
A Mammoth Valentine's Package
, a two-night hideout on Mammoth Mountain that, before you're through, will involve everything from massages to a champagne sleigh ride pulled by a snowmobile, booking now.
So yes, you will go to Mammoth and get a suite. All the basic keywords like "in-room couples massage" and "ski passes" and "mountain butler" will be covered. You'll also have somebody to draw your bath each night, and stock it with oils and stuff (different somebody than the mountain butler).
Then, there's the romantic dinner for two via snowcat. It'll take you up to a private chef's table at the top of the mountain and... yes, we just used "romantic dinner" and "snowcat" in the same sentence.
Oh, and before you've returned to LA, you'll also find yourself in a sleigh. That's stocked with champagne. And that's pulled around the mountain by a snowmobile. Expect incredible views.
Especially if you look up from the bubbly.