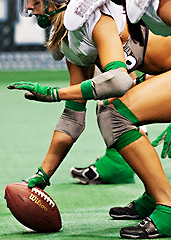 We promise we're going to give you time to lick your Falcons-related wounds.
Just not today.
Because today, the cause of your strife is exactly what's going to pull you through.
You see, there's this new football team.
And they have a really interesting take on what constitutes proper uniforms...
Improper uniforms.
Meet the
Atlanta Steam
, a new professional football team comprised solely of players who look a lot better in lacy things than Julio Jones, gearing up for their inaugural kickoff on March 30.
To be clear, this is the same Lingerie Football League that's been pitting scantily clad linewomen against each other for years. Only now it's called the Legends Football League. And they've expanded to Atlanta. And they traded in the lingerie for "performance wear." Which looks... exactly like lingerie.
About our team. It's made up of about 20 local fitness model types. They've been training for months now. And soon enough, they're going to start playing against 11 other cities for a shot at the championship this summer. It'll be intense. It'll be cutthroat. It'll be really, really wonderful.
So go ahead and secure tickets to their first game in Jacksonville (yes, this is road-trip-worthy). That, or wait until home game #1 in April against the Omaha Heart.
Pleasantly absent from that equation: San Francisco.