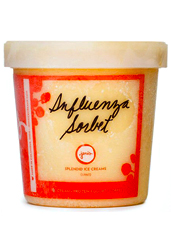 Hello and welcome to this week's edition of "Sorbets That Supposedly Cure the Flu."
Our guest star this afternoon will be... a sorbet that supposedly cures the flu.
Give a cold and hearty welcome to
Influenza Sorbet
, a delicious and curiously named frozen treat that happens to fight contagious respiratory illnesses in its spare time. (Or at least involves enough bourbon to make you think that's the case.) It's available now.
What you have here is a pint of sorbet. You know how those work—open the lid. Stick a spoon in there. Place the contents into your mouth. Enjoy.
A) This works exactly like that. B) Except it's got a bunch of ingredients that are supposed to clear your nasal passages and soothe a sore throat. C) Earlier, we described how eating works. And that probably wasn't necessary.
Anyway, go ahead and pick up a pint of this stuff. Keep it on standby in case you start feeling flu-y. In which case, you'll soon find yourself consuming what can only be described as a cold, spicy hot toddy. There's some cayenne pepper in there. Little ginger. Touch of honey. Some orange and lime juice. And, of course, plenty of bourbon to bring it all home.
It also tastes a lot better than a flu shot.