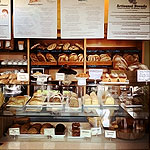 BREAKFAST
Acme: Biscuits. For the Both of You.
This Midtown bakery from the Federal crew is famous for their freshly baked baguettes. Also, their pup-toting cougars. It's how you'll start the day with your little buddy.
You're Having: Johnnycake waffles and a cup of Panther coffee.
Your Dog's Having: Homemade doggy biscuits. And... the tiniest sip of your coffee.