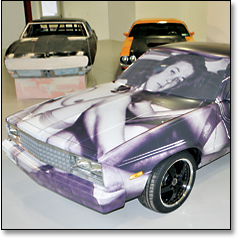 Really, anything can be considered art—whether you're talking about artful shots of beautiful women...
Or an eye-popping '86 El Camino. You'll see both at once when you drop by
SHE
, a monumental art exhibit opening tomorrow at the Michael Kohn Gallery on Beverly.
It's sort of a two-for-one show, with collected works from the last half-century by two renowned students of the female form—Wallace Berman and Richard Prince. Berman palled around with Ginsberg and the Beats before moving to Topanga Canyon to focus on concocting wild collages featuring women pulled from strange magazines. (We'd consider that upward mobility.) And Prince, sort of a Whitney-showing Tarantino, has often been inspired by those old pulp-novel covers featuring seductive but dangerous types, often in uniform; one series prominently featured here is called
Nurses
.
And then there's the El Camino you'll find inside.
Car
, debuting at this exhibit, became Prince's third auto-turned-artwork after getting wrapped in vinyl and covered with photos of pinups and biker chicks. But both men tackle their subject
artfully
, of course. Berman once got convicted of obscenity charges, but that was back in the '50s...
Kind of a badge of honor, really.