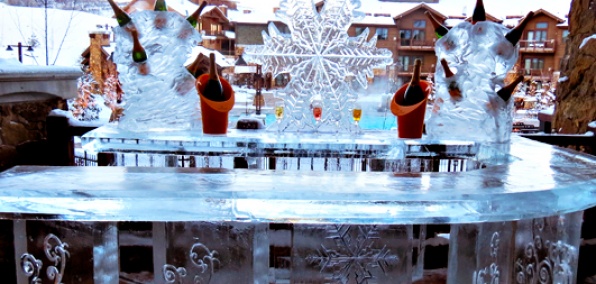 So this is winter.

Which means it's time to head to the Rockies and beeline it to the coldest place imaginable.

You know, like a bar made of ice...

Grab a jacket and say hello to Powder Ice Lounge, a freezing-cold bar full of champagne (for sipping) and blankets (for cozying up with... whomever you want to cozy up with), now open inside the Waldorf Astoria Park City at Canyons Resort.

This place is kind of like that ice palace in Die Another Day. But smaller, more inviting and with fewer car chases. It's got a few necessities sculpted from ice—like a 14-foot bar, tables and chairs—and at least one comely blonde in a fur hat. (We're just guessing here. Could be as many as three.) Plus all the champagne that typically accompanies such things.

Which makes it precisely the spot you'll retreat to after a long day spent deftly conquering some backside moguls. Carefully step inside and claim a spot at the bar, then summon a fur blanket, a plate of duck rillettes and something to ward off frostbite. A flight of bubbly should do the trick.

And if that isn't enough for you, well, you're incredibly demanding. But also, there's live music. So turn your attention to the guitar player in the corner.

And maybe offer her a pair of mittens.