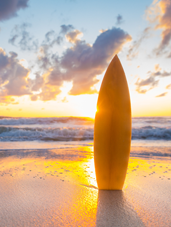 Let's go over your resolutions.
No, your 2012 resolutions. The ones you have mere days to complete:
Randomly meet Tom Ford and Honey Boo Boo crossing Rodeo Drive: check.
Spread international goodwill through powerful, well-timed high fives: check.
Make your own surfboard and then surf on it: uh-oh...
There's still time. Seek out
Shaper Supply Co
, a new Westside hall of wave-cutting that's holding surfboard-making classes—yes, you walk out with your own board—now hanging 10 in Mar Vista.
Next to your old friend Bodhi's garage, this is the best place to find all the things you need to build your own surfboard—including a seasoned instructor to tell you how the hell to actually make it.
What you're going to do is sign up for one of their shaping classes—that's five hours with a private instructor, a foam blank (that'll eventually be your stick) and all the tools the job requires. So yes, you can leave your Flexpad sanding block at home. They already have one.
And when you're done, the board is yours. Like, really yours. Take it. Surf on it. Or just use it as a coffee table or something.
Now about making your own wetsuit...