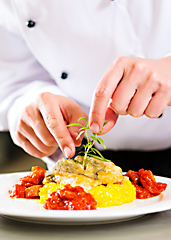 Let's see. You have everything you need for your holiday party:
A
Nutcracker
performance by 10 Russian ballerinas who double as neck masseuses.
Nog stations. Glogg stations. Live elf wrestling.
The only thing missing: anything resembling food. Since you'll be busy wrangling elves, it's time to call in the pros.
Introducing
Kitchit
, a battalion of chefs from Chicago's top restaurants who are willing to drop some serious culinary science on your next dinner party, available now.
Just imagine having chefs like Spiaggia's Sarah Grueneberg, the Bristol's Chris Pandel and/or Trenchermen's Pat Sheerin on speed dial. Because that's exactly what this is.
You'll go online and select from a roster of well-trained chefs available to work around your schedule. You'll assess their rates (they're actually more affordable than you might think) and contact them using the online form.
Work out a menu with them—yes, they take special requests, so your dream of a foie gras–topped, deep-fried lobster is that much closer to a reality. Then let them handle the planning, the shopping and the cooking.
The result is bound to be better than your famous cheese-ball platter.
There, we said it. Your cheese balls are terrible.